GAME NAME: Assassin's Creed II
DEVELOPER(S): Ubisoft Montreal
PUBLISHER(S): Ubisoft
PLATFORM(S): PS3, Xbox 360, PC, Mac
GENRE(S): Open world, action adventure, stealth
RELEASE DATE(S): November 17, 2009
 If I could use one word to describe Assassin's Creed II, it would be mesmerizing. On November 17th, half a dozen video games came out that I wanted to play, that I HAD to play. Out of all of those, ACII has drawn me in like a vortex of 15th century fun.
This game is a marked improvement on the original in every conceivable way. What was previously a B+ or A- game has been turned into an A+++++ product.
For starters, the plot is very straightforward, but that doesn't mean it isn't intricate and spider-webbed. Many writers seem to think that a good plot means confusing the living ass out of it's readers/viewers/players. That doesn't have to be the case. This game is all about revenge, and stopping a gigantic conspiracy. Nothing new, but told very well.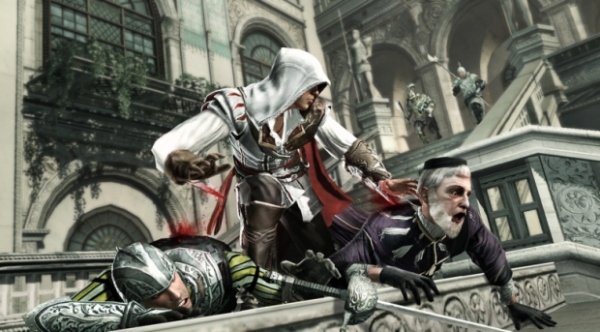 Historical accuracy. This game is full of it. As with the original AC, this one interweaves itself into the real events of the Renaissance, even going so far as to have historical figures like Leonardo Da Vinci help you out in your quest.
Probably the biggest complaing registered against Assassin's Creed was it's lack of variety. It did indeed get tedious, but that honestly didn't bother me. This one has an incredible amount of diversity in the sidequests, and it never gets boring. Ever.
The two most interesting and drawing aspects of these games, though, is the parkour and the combat. You can free-run the shit out of a few Italian cities, such as Tuscany and Florence, running up walls, climbing towers, leaping into bales of hay, and looking completely awesome doing it.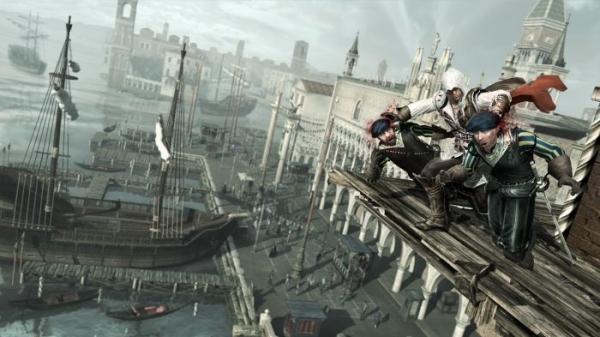 And the COMBAT! Wow. The designers at Ubisoft took a near-flawless system and refined it even further. With new weapons, new types of weapons, and new varieties of old weapons, killing guards feels seamless and badass!
The game looks pretty good. There are some nice graphical effects, and the view when you're high up is spectacular. One might even say breathtaking. And the designers have re-created these cities and made them look absolutely beautiful.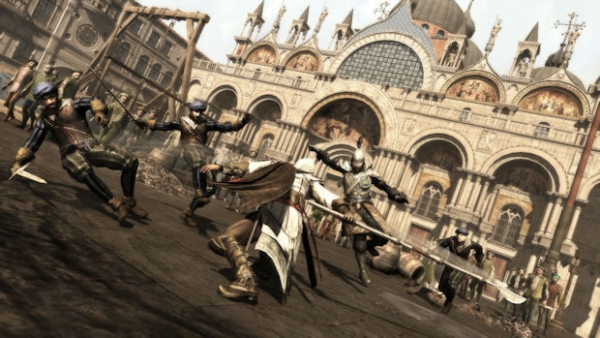 While AC had a lot of inspiration in the Middle East style of music and use of instruments, this one has a very classical, orchestral feel. It gets the job done without feeling like too much, which is near perfect in my eyes.
Gripe-wise, I only have one. The accents. Some of them are so fake-sounding it grates on the nerves. However, the writers threw in a lot of authentic Italian, intertwining it with the "English" speak, which I thought was a nice touch. Some of the voice actors are just annoying, but in such a huge game, this one complaint is almost nothing.
Assassin's Creed II is very, very impressive and gondola-loads of fun. It will be taking my free time up for weeks to come, most likely.