GAME NAME: League of Legends: Clash of Fates
DEVELOPER(S): Riot Games
PUBLISHER(S): Riot Games
PLATFORM(S): PC
GENRE(S): MOBA
RELEASE DATE(S): October 27, 2009
 Where do I begin? This game was on my radar for quite a while before it came out. I had heard about tower-push games, popularized by the Defense of the Ancients (DotA) mod for Warcraft III, on a podcast I used to listen to and became interested in the genre. I bought Demigod when it came out and played it for a while, and I bought the collector's edition of League of Legends (LoL) when it became available. However, my experience with LoL, and the tower-push genre in general, has been somewhat mixed.
Let's start at the beginning. The three games I mentioned above are the only games in this genre that I am aware of. I never played DotA when it was popular, so I don't know anything at all about it apart from what I've heard others say about it. I did play Demigod and the first thing that struck me was how beautiful a game it was. It took a while to learn the basics, but it's fun once you know what's going on.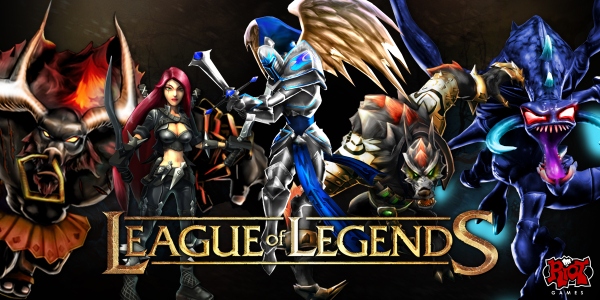 The biggest problems with Demigod are the system requirements and the lack of content that shipped with the game. As for the system requirements, there's not much point to playing Demigod unless you have at least a dual-core PC with a nice graphics card. And the number of items and other things, like champions, is relatively lacking. Too, the match-making isn't that great and, at least for me, it takes to long to get up and running in a player verses player match. Demigod was neat for what it was – the first commercial tower-push game on the market – but it wasn't worth the initial price of $40. It is worth the holiday discount price of $20.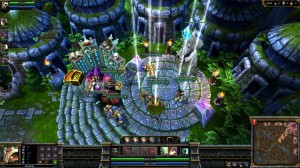 League of Legends was created by two of the developers of DotA Allstars – the most popular version of DotA. The first thing that I noticed was that all the updates took forever. The second was the that the launcher looked great. The next thing was the totally overwhelming amount of content in the game. The number of champions and items was just amazing. It's hard to know where to start, really, and it took a while to find a champion and build that I liked. One major drawback was that the LoL online store was not open when the game was released on October 27, 2009. It was slated to open on November 17, but that day came and went with no store. It didn't open until November 20, and in the beginning there were several obvious and unavoidable bugs. However, to Riot Games' credit, they did get the store up and running, and everything works fine now.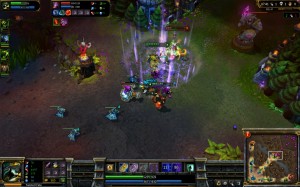 One huge negative would be some of the player base. Some of the players, usually the ones who don't outright suck, but who aren't very good either, will flame the chat channel, call you names, whine, go AFK, constantly spam for a surrender vote and, in general, do their very best to make everyone else miserable, all the while never making any positive headway for their team. I've already gotten a good start on my ignore list because of this. However, there are some cool people who play the game; far more than the trolls and whiners, it's just that said trolls and whiners are louder and more obnoxious than the rest of the community and add a sour note to the game play.
As far as the in-game look and feel of the game, well, it's really cartoony. But it also runs well on lower-end systems. I've played Warwick, Amumu and that big rock guy, Malphite. Like Demigod, it takes a while to learn the basics, and, as a level 13 summoner, I've slowly developed into a mid-range player – not too many deaths coupled with slightly more kills and assists. The big thing about the play is champion synergy, staying alive and itemization. There are so many options in this game, it can be totally overwhelming in the beginning. But, all told, it is fun and I play at least one game every day. And the fact that it's free to play, well, I don't know how that will work out for Riot Games, but for players, you can't beat a buy-in price of $0.
Here is a link to the League of Legends Wiki.