GAME NAME: New Super Mario Bros. Wii
DEVELOPER(S): Nintendo EAD
PUBLISHER(S): Nintendo
PLATFORM(S): Will
GENRE(S): Platformer
RELEASE DATE(S): November 15, 2009
 Have you ever sat back and thought, "Man. Remember Super Mario Bros. 3 for Nintendo? I wish they made a sequel." Well, you're sort of in luck!
In New Super Mario Brothers Wii, Nintendo has drawn from many of the classic side-scrolling titles in the series. The game with the most influence, however, is certainly Mario 3.
Having commented on this numerous times before, I feel I'm repeating myself unnecessarily now, but I am a whore for nostalgia. Nintendo has effectively bottled the experience of classic video gaming here, but put a fresh spin on it.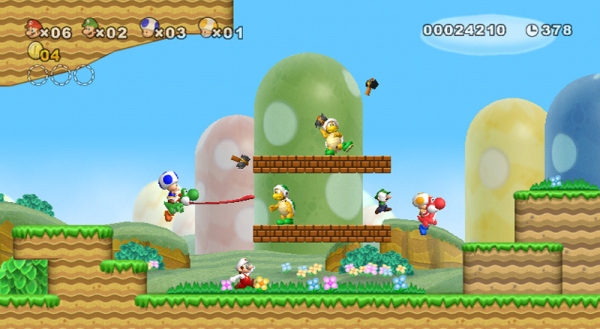 Many classic Mario tunes get a revamp, but those may be lost on others. I'm not sure, exactly. I have always been a fan of video game music, and as such can recognize many sounds and tracks from games that most other people don't.
As previously stated, much of the experience was borrowed from Mario 3, including the music. It's not a bad thing. There's a reason Super Mario Bros 3 went down as not only one of the best Mario titles, but one of the best video games of all time.
I do have to say, though, that in changing the New Super Mario Bros series over from the DS to the Wii, Nintendo made almost no effort in improving the graphics. It looks like a DS game, but… bigger and wider. The game isn't ugly, but it sure ain't pretty either. Although it's too fun to really be bothered by it.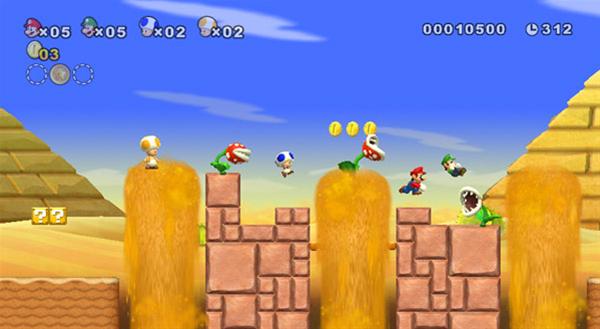 Yes, it is most definitely fun. What's the one word almost everyone in the world probably says when asked to describe Mario games? "Chickendog." No, it's actually "Fun.", or so I would think.
The new powerups – Ice flower, propeller hat, and penguin suit, are a very fun addition to the lineup of almost limitless powerups that have been seen in each game. I miss the giganto-mushroom from the first NSMB game, but these guys are great too.
One thing I love is Bowser/Koopa's kids from Mario 3 making appearances as bosses, and the addition of airship levels. See? Mario 3 influences all over again. And let's not forget everyone's faithful pet dino, Yoshi. He's back! And you can ride him! Although being able to take him past the level he's found in would've been fun.
It's a hell of a game, and the new four-player multiplayer idea works surprisingly well. It's frantic, crazy, and puts a nice little spin on an already super game. Grab three players and go nuts, you'll have a blast.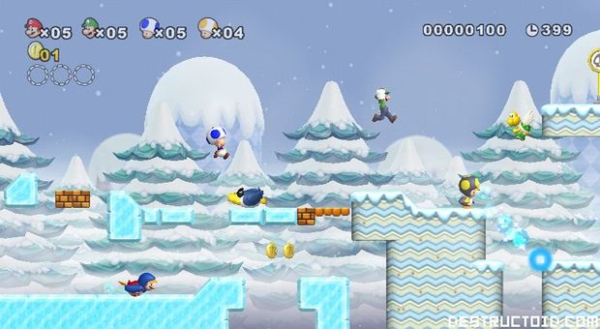 The thing that the developers made sure of is that you're entertained throughout. Hell, even the end credits is a coin grabbing minigame (best played with 4 players, of course).
I sincerely hope there will be many more New Super Mario Bros games in the series.