GAME NAME: Borderlands
DEVELOPER(S): Gearbox Software
PUBLISHER(S): 2K Games
GENRE(S): 1st person shooter, action RPG
RELEASE DATE(S): October 20, 2009
 Borderlands is such an addictive and tremendously fun game, I'd advise you to get it only if you don't value your friends, family, and social life. It will preclude you from having any of these for some time!
I started the game and noticed a friend of mine was playing online as well. A simple button click and he was in my game with his newly-created character. The game is designed completely with co-op in mind. Up to 4 people (as there are 4 characters to choose from) can play at a time, and it is just. Freaking. Fun. Playing co-op. The number of enemies and difficulty is scaled up depending on how many players are in a game, and the harder they are, the better loot they drop.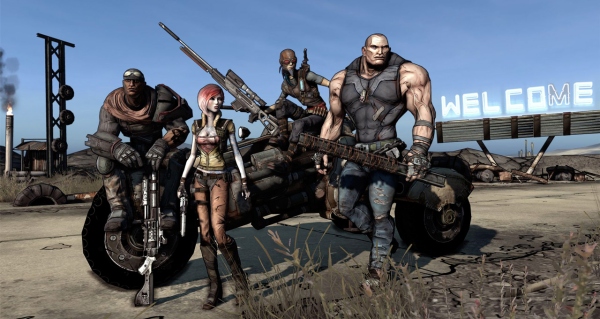 And they give you every option imaginable. System Link. Splitscreen. Xbox Live. The game designers at Gearbox Software let us choose how we want to play with our friends; something that is usually only given to us in one option. Either Xbox Live or splitscreen.
Now, it's important to note that I haven't touched the PC version but obviously you probably will only have the online option only.
Anyway, we wound up playing for four hours straight, and before I realized it, it was 2 in the damn morning. This game will eat away all your free time. And it's such an entertaining end product, you won't even care.
Borderlands is presented in a cel-shaded but still good-looking style. Think Crackdown mixed with Fallout 3. It lays out a vast wasteland with different areas, and holds well to a western theme (as opposed to Fallout, which is more of a post-apocalyptic theme).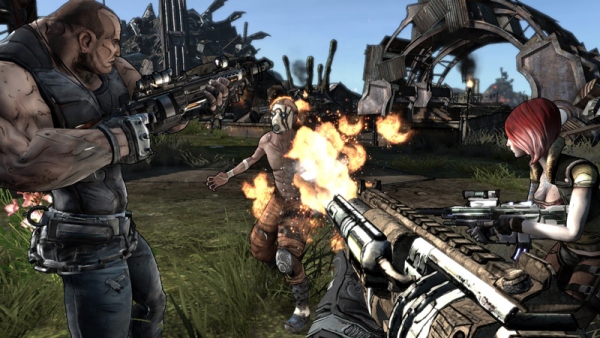 The most brilliant shine this game has, in my opinion, is the weaponry. Trying to find a better weapon, or weapons, than your current selection is a driving point in the questing and grinding. I remember finding a shotgun that had a SCOPE and shot acid and nearly crapping myself. A friend of mine is still carrying around a shotgun that fires GRENADES (and uses shotgun ammo for it!). The weaponry is over the top but friggin' fantastic.
This game is funny. It's very funny. With redneck, probably mentally challenged characters saying things like, "Hey, this is where the cars live! Get you one!" to enemy boss title cards reading, "9 Toes (Also, He Has 3 Balls)" and an attitude that takes itself just serious enough, the sense of humor is, to me, one of the central points of fun in Borderlands. Oh, and let's not forget the hilarious dancing robots. "Daddy always said, wheels are better'n heels! Uh, but he was handicapped…"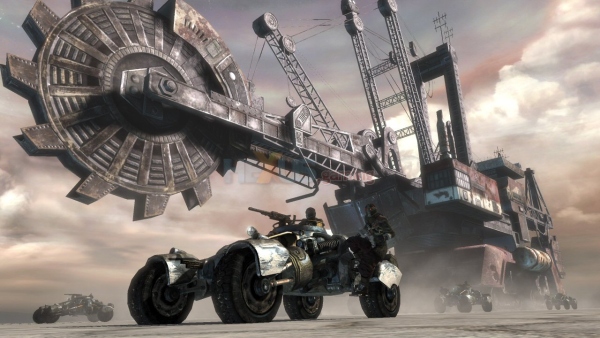 So, you have four character classes, each with three skill trees. Basically you could have two people of the same class and have two completely different characters, which I like. I like a whole lot. Say, for example, you have three Hunters. One could specialize in being a gunslinger, a sniper, or beef up their pet falcon. It offers a lot of cuztomizability in your character.
The final word: BUY THE GAME, YOU COMMUNIST. It's available for Xbox 360, Playstation 3, and PC.