GAME NAME: Dungeon Defenders: First Wave
DEVELOPER(S): Trendy Entertainment
PUBLISHER(S): Reverb Communications
PLATFORM(S): iOS, Android, PSN, Xbox Live
GENRE(S): Tower Defense, Action RPG
RELEASE DATE(S): December 15, 2010 (iOS)
You know, we've been talking about Dungeon Defenders on the podcast for months now, but we haven't taken the time to write anything about it, until now. Recently, I was pretty damned sick and while I was lying there on the couch suffering, I found more than a little relief playing Dungeon Defenders: First Wave on my iPhone. It drains the hell out of the battery, but it also fills up long hours of convalescence with its unique mixture of tower defense and 3rd person action RGP. I bought it when if first came out but hadn't really played it until now. And I'm glad I finally did. I just wish that I had sooner.
The basic game concepts are two-fold. First, it is a tower defense game. There is a crystal at the center of every level that you must protect, alone or with others, by placing defenses unique to your character through successive waves of enemies. Second, when the combat phases begin, you get run around with your character and fight the hordes as they advance towards the crystal through your defensive positions. There are multiple levels and maps of this model as well as other multiplayer game modes that all take place within this framework. The story behind these machinations is that the real heroes have run off to save the world again and left you, their apprentice(s) behind to watch over this crystal that protects everything from destruction. Of course there were some sophomoric antics which opened the portals that the monsters are now pouring through. All told, it's cute, but not sickeningly so, and the game mechanics are solid and well thought out once you understand them.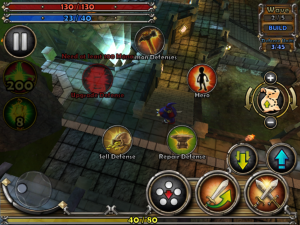 For the iPhone platform, the sound and graphics are both top-notch. This game utilizes the Unreal engine on a phone! My only complaint at all is that I wish my iPhone's screen were bigger. I don't have an iPad (yet), but I imagine that the game would look and play even better. It's just amazing to see fully 3D environments rendered beautifully on a tiny device like this. Honestly, First Wave looks better on my iPhone than Final Fantasy VII did on the PS1. It's that good.
Both the levels of fun and replayibility are high for Dungeon Defenders: First Wave. Indeed, the only real drawback is the small screen on the iPhone. A game like this needs a bigger platform to be more fully appreciated. And speaking to that, its developers Trendy Entertainment have yet to release the PC and console versions of this game. Indeed, we're already at the end of Q2 2011 and they still aren't saying when we'll get those versions. Still for a $3 iPhone app, this game is pretty damned good. I give it a 9 out of 10 and highly recommend it to anyone who likes RPGs and/or tower defense games. And I can't wait until I can play this game on much, much larger platform.